Bastille's Dan Smith Talks "Quarter Past Midnight," Skiing to a Gig
If you've ever gone out to enjoy the nightlife, you know that after 12 a.m., things change.
When midnight rolls around, you have to make a decision: you're either going home or going hard. Not that you should always opt to stay out (some of us have work in the morning), but when you do, strange things begin happening and memories both good and bad get made.
Bastille explores that unique feeling of blossoming nocturnal excitement on the band's first single of 2018, "Quarter Past Midnight." Frontman Dan Smith tells Q104.3 New York's "Out of the Box" with Jonathan Clarke that the cinematic anthem sets up the band's forthcoming new album.
"It's the opening track, it sets the tone, it's trying to capture that fun...seeking of euphoria and of escapism and running into the night and not really knowing what's going to happen next and not caring," Smith says. "[It's that] slight self-destructive thing...I just wanted to capture that feeling of excitement like, 'No, the night is not over; it's just starting now.' And I hope that we have."
Bastille surely had a few of those kind of nights over their 500 shows on tour over the last several years.
Bastille had five months at home to record its new album; it was the longest period of time the band had off the road in five years. But Smith and his bandmates didn't take it as a vacation — they got to work on the new album straight away.
Smith's first project was to go through a cache of voice memos he'd sung into his phone over the last few years. There were germs of songs in there, Smith knew; he just needed to lock himself in the studio and find them. He describes to "Out of the Box" a tedious process adorned by occasional beams of inspiration.
"[There's] a weird mix of it being quite boring and administrative 'cause you're going through stuff, but then also you're like, 'Oh, I love that!'" Smith says.
The singer took a week after the tour to comb through his ideas and work them into eight or nine songs, several of which made it onto the new album.
Listen to the whole "Out of the Box" interview above! Smith recollects his first trip to New York City, skiing to a gig in Switzerland, writing the new album and more!
When Bastille goes back on tour, you can get all the dates here. Smith promises the new album is coming soon.
Follow Bastille on Facebook, Twitter and Instagram.
Thumbnail Photo: Getty Images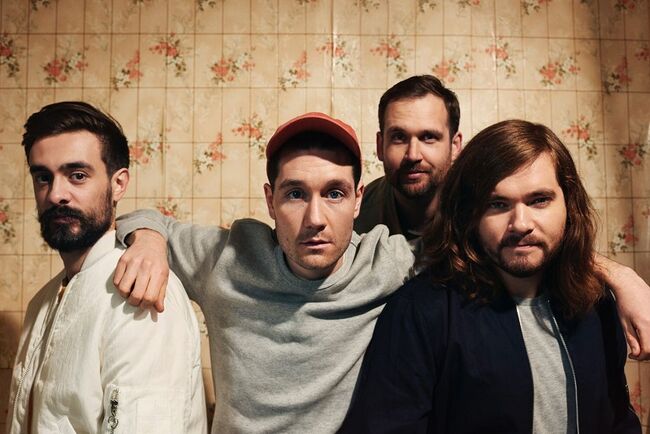 Check out the official audio of Bastille's "Quarter Past Midnight" below:

Out Of The Box
Want to know more about Out Of The Box? Get their official bio, social pages & articles on Q104.3!
Read more