Joe Perry Talks Making Room for Mistakes, Keeping Aerosmith Nasty
Some things aren't meant to be shiny, even if they're new.
It's a concept Joe Perry learned in Aerosmith's early days, and it's one he's dutifully applied to much of his other projects, including his latest solo effort, Sweetzerland Manifesto.
The guitar legend tells Q104.3 New York's Out of the Box with Jonathan Clarke that he always makes room for the unpredictable and embraces the potential for mistakes, whether he's in the studio or on stage in front of an audience.
"I call it found sound," Perry says. "That's half of it. It's being able to keep your ears open to those kind of things and going, 'That's not a mistake, that's a miracle!' and leaving it in there. Fans would be surprised if they knew ... how much of those things [on recordings] are found sound."
The latest iteration of Perry's solo band featured Brad Whitford, Gary Cherone, Chris Wise and Jason Sutter. It's a world class group, and Perry say's he's no taskmaster when it comes to rehearsal. He's the opposite.
"These guys in this band, this is the lineup. They get my vibe," the Rock and Roll Hall of Famer Perry explains. "Some artists want everything to be perfect, 'It's got to sound exactly like the record.' There's no right or wrong here, if that's how they want to hear it. But there's a point when we're rehearsing that I go, 'Okay, that's good enough; I don't want it to get any better.' Because I want room in there to f--k up. You know what I mean? (Laughs) That's where the excitement comes from. If the band can bring it to that level, and you can build on that, then you're gonna have a show that people are not going to forget."
Perry toured with the band earlier this year and was preparing to embark on 10 more dates before falling ill earlier this month in New York.
Considering the doctor-ordered time off, Whitford and his 2019 plans with Aerosmith, an upcoming new album with Hollywood Vampires, and the busy schedules of Cherone, Wise and Sutter, Perry's unsure when he'll get to tour with this group again.
But as he rests up for another busy year, Perry reiterates that Aerosmith fans are in for something really special when they see the band at its Deuces Are Wild residency in Las Vegas next spring.
"I don't mind being on the road," Perry says of the concept of letting the fans come to Aerosmith for a change. "I love the touring part once you're on the road and moving. The big thing is you can set up a production. You can do things, and by not having to move it every night, you can do things to the show — the actual production — that you can't do if your putting it up every night and tearing it down every night.
He continued: "The theater we're at, the Park MGM, is designed for sound. I don't think there's a bad seat in the house. We're going to be able to do things — we're not going to lose the heart and soul of what Aerosmith does. We're going to add things to it that will make it an experience that you won't be able to get anywhere else."
Listen to the entire Out of the Box interview above.
Keep up with Joe Perry on Facebook, Instagram and Twitter.
Thumbnail Photo: Getty Images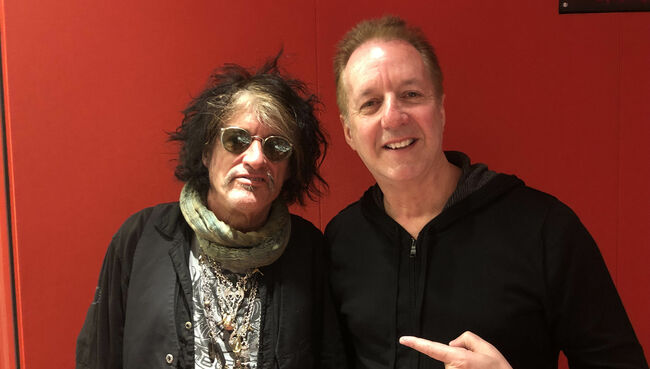 Here's the music video for "Quake" from Perry's latest solo album, Sweetzerland Manifesto:

Out Of The Box
Want to know more about Out Of The Box? Get their official bio, social pages & articles on Q104.3!
Read more