Sebastian Bach To Perform Skid Row Debut Album In Full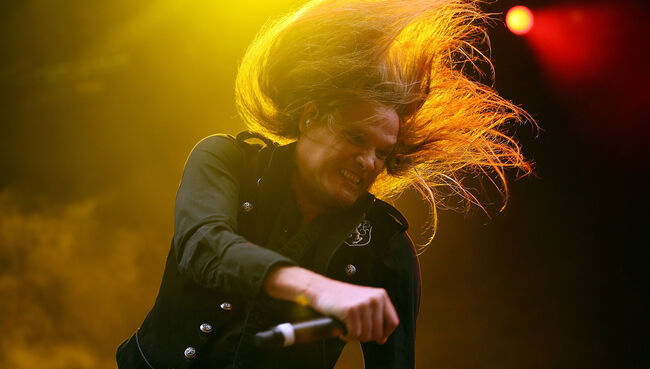 Sebastian Bach will celebrate the 30th anniversary of his debut album with Skid Row by performing the record in its entirety on tour this summer and fall.
The album launched Skid Row and Bach's careers and has been certified 5x platinum on the strength of four hit singles, "Youth Gone Wild," "18 and Life," "Piece Of Me" and "I Remember You."
"In 1989, we put out the first record Skid Row," Bach said in a lengthy statement, posted to Facebook Tuesday. "Thirty years later, people still dig the music we created in a garage all those years ago."
The singer notes that neither he nor Skid Row have ever performed the full album in concert so it will be a unique live experience.
Bach has made every indication over the past several years that his preference was to reunite with Skid Row for the 30th anniversary tour, but his former band mates have repeatedly declined the opportunity to work with him — including in 2017 when the band was looking for a new lead singer.
Baz's split with Skid Row in 1996 was acrimonious, but he's expressed a willingness to put that all behind him. Guitarist Dave Sabo told Eddie Trunk in '17 that the band briefly considered the idea before realizing that "whatever it was that tore us apart years ago still existed."
With the 30th anniversary of Skid Row in mind, Bach reached out to all the current members of the band last summer, asking if there was anyway they could celebrate the milestone together. He didn't get a single response, he said.
"I don't know what to do," Bach said. "It's very sad. I understand how the fans feel. I get it. I'm a fan too."
See all the tour dates below.
For more information, go here.
Sebastian Bach 2019 Tour Dates
Aug 29 - Nashville, TN - Mercy Lounge
Aug 30 - Anderson, SC - William A Floyd Amphitheater
Aug 31 - Charlotte, NC - Amos Southend
Sep 2 - Huntsville, AL - Side Tracks Music Hall
Sep 3 - Columbus, OH - Skully's
Sep 4 - Cleveland, OH - Phantasy
Sep 6 - Stafford Springs, CT - Palace Theater
Sep 7 - Block Island, RI - Ballard's (afternoon show)
Sep 9 - Laconia, NH - Granite State Music Hall
Sep 10 - Hampton Beach, NH - Wally's
Sep 11 - Portland, ME - Aura
Sep 13 - Harrison, OH - The Blue Note
Sep 14 - Flint, MI - The Machine Shop
Sep 15 - Grand Rapids, MI - The Intersection
Sep 18 - Kansasville, WI - 1175
Sep 19 - St. Louis, MO - Delmar Hall
Sep 20 - Lombard, IL - Brauer House
Sep 21 - Dubuque, IA - Q Casino
Sep 22 - Lexington, KY - Manchester Music Hall
Sep 25 - New York, NY - Sony Hall
Sep 26 - Harrisburg, PA - XL Live
Sep 27 - Lynchburg, VA - Phase 2
Sep 28 - Waterloo, NY - The Vine at Del Lago
Sep 29 - Warrendale, PA - Jergel's
Oct 1 - Atlanta, GA - Variety Playhouse
Oct 3 - Wichita, KS - WAVE
Oct 5 - Golden, CO - Dirty Dogs Roadhouse (Outdoor)
Oct 6 - Albuquerque, NM - Sunshine Theater
Oct 10 - Ramona, CA - Ramona Mainstage
Oct 11 - Los Angeles, CA - Whisky A Go Go (Night 1)
Oct 12 - Los Angeles, CA - Whisky A Go Go (Night 2)
Oct 17 - Roswell, NM - Liberty Theater
Oct 18 - Oklahoma City, OK - Diamond Ballroom
Oct 19 - Waco, TX - The Backyard
Oct 20 - Dallas, TX - Gas Monkey Bar N' Grill
Oct 22 - Houston, TX - House of Blues
Oct 23 - San Antonio, TX - Aztec Theater
Oct 24 - Corpus Christi, TX - House of Rock
Oct 25 - Lafayette, LA - The District
Oct 26 - Miramar Beach, FL - Village Door Music Hall
Oct 28 - Miami, FL - KISS Kruise Pre Party @ Double Tree
Oct 30 - Orlando, FL - Hard Rock
Oct 31 - Savannah, GA - Victory North
Nov 1 - Ft. Myers, FL - The Ranch
Nov 2 - Pinellas Park, FL - England Brothers Park
Photo: Getty Images

Maria Milito
ON AIR: Weekdays 9AM-2PM. Maria Milito, a native New Yorker, has been heard on Q104.3 since 1996 playing your Beatles and Workforce Blocks!
Read more