Nirvana's Krist Novoselic Says Starting a Band Hasn't Changed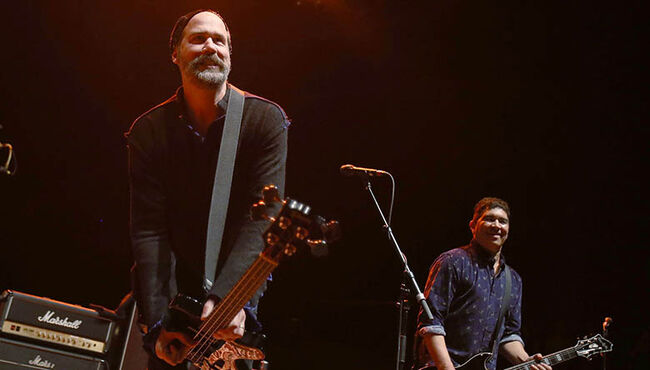 Nirvana bassist Krist Novoselic knows as much as anybody does about starting a band at zero and building it into a draw. He says not much has changed as far as that process goes since he co-founded Nirvana with Kurt Cobain over 30 years ago.
Novoselic started Giants in the Trees in 2016 after putting out a call for an open jam. The avante-garde post-punk band has mostly performed small venues around the Pacific northwest over the past two years.
The bassist and accordion player tells KEXP building a band in 2018 is "basically the same."
"At least on the level we're playing, if you've got a good crowd and you've got good music, it's an event," he says. When a band starts playing and people congregate, it's to celebrate the phenomenon of music. And I'm grateful people know the songs now."
Load-in, soundcheck, getting paid (or not getting paid), the Internet hasn't changed that at all, says the Rock and Roll Hall of Famer.
"People take a chance on you and promote the band and if you sell tickets and get good attendance, you make money. If not, you eat your shorts. It's a high risk, very capitalist business, especially the local music scene."
One thing Novoselic notes has changed for the better? Smoking. In that there's none of it inside bars anymore.
"Before, when you went out, your clothes would end up smelling like cigarettes — and I used to smoke," he adds. "But now they've banned smoking and it's a lot better. It's great that rock 'n' roll is still alive and people are still doing it, too."
Novoselic has performed live only sparingly since Nirvana broke up in 1994. And it doesn't seem like he's interested in extensive touring with Giants in the Trees, as all the gigs on the band's calendar are in Washington State.
Get Giants in the Trees' tour dates here.
You can follow them on Facebook, Instagram and Twitter.
Check out the music video below for Giants in the Trees' new song, "Sasquatch."
Photo: Getty Images

Ken Dashow
Listen to Ken Dashow everyday on Q104.3 New York's Classic Rock and don't forget about Breakfast With The Beatles every Sunday Morning.
Read more