Weezer Delights Fans With Surprise 'Teal Album' of Covers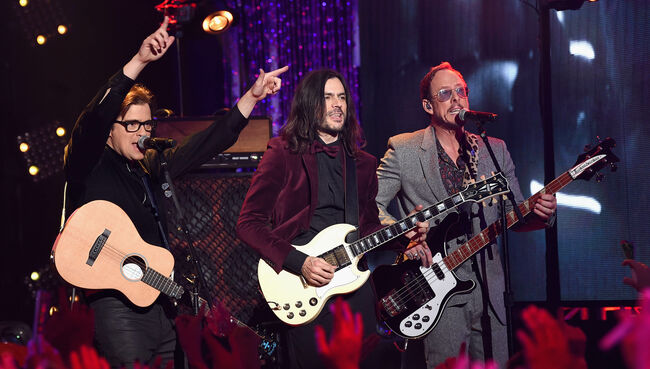 Releasing full-length albums to surprise fans became a bit of a trend a couple years ago, but we may not have seen anything quite like this before.
On Thursday, Weezer released its covers LP, Weezer (Teal Album), completely by surprise just about five weeks before the band's anticipated Black Album is due out (March 1).
Despite the surprise hit the band had with its cover of Toto's "Africa" last summer, no one expected the band would release two full-length albums within six weeks of each other! And yes, "Africa" is on the album.
Weezer has delighted fans with covers at its live shows for years, and Teal showcases the breadth of the band's influences, spanning some six decades from The Turtles' "Happy Together," A-Ha's "Take on Me" to Black Sabbath's "Paranoid" to Michael Jackson's "Billie Jean" and TLC's "No Scrubs."
You can listen to the full record here on iHeartRadio!
The upcoming album of original material, Black Album, was produced by Dave Sitek and includes singles "Can't Knock the Hustle" and "Zombie Bastards."
Weezer goes back on tour in March with Pixies. Get all the tour dates here.
Photo: Getty Images

Jonathan 'JC' Clarke
ON AIR: Sundays 7PM - 9PM. Jonathan Clarke joined Q104.3, New York's Classic Rock, as an on-air personality in 1997 and continues to be a mainstay there. Also, since March of 2001, he has hosted and executive produced his top rated 'Out of the...
Read more