Paul McCartney Is Surrounded by Unintentional "Yes Men," Says Biographer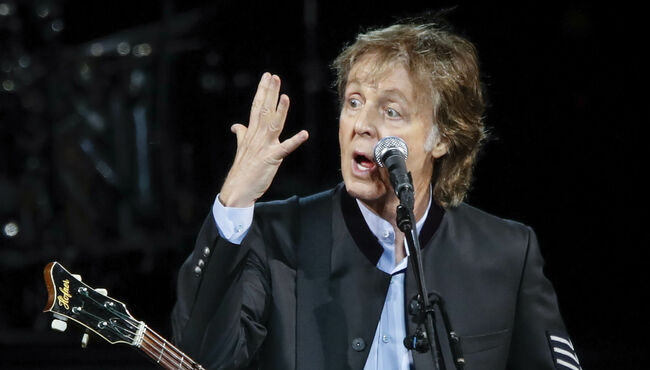 Paul McCartney likes to think of himself as a normal guy.
He's tried to stay humble over the years by doing 'regular guy' things. He doesn't flaunts his incredible wealth, and he's always working, looking ahead to his next project, setting goals for himself.
But Paul McCartney will never be a normal guy. That ship sailed a long, long time ago, when he was still a teenager.
McCartney biographer Barry Miles revealed in a new interview with Express, that the music icon has always gone out of his way to stay grounded, but some things are just bound to pass him by.
"Wherever possible, he would take a bus somewhere ... and was very anxious to stay in touch with what he regarded as ordinary people," Miles explained of McCartney, who grew up in a working class family in Liverpool, England.
And if Macca sends you on a booze run for the big game this weekend, you ought to bring back a receipt.
Miles continues: "...I remember just a few years ago when I was at his studio, he asked one of the roadies to go out and buy him a bottle of whiskey, because he had people coming over, and he gave him £2. And the roadie said, 'Well, it's gone up since then, Paul.'"
£2 amounts to about $2.60 USD. And even the smallest bottle of the cheapest whiskey you can buy will cost you more than that. Heck, you'd have to find a dive bar with a really good happy hour to pay $2.60 for just a shot of whiskey.
Miles, who wrote McCartney's 1998 biography Many Years From Now in addition to dozens more volumes on The Beatles and rock 'n' roll from the '60s and '70s, elaborated on the down side of McCartney's unprecedented success.
"You can't be that famous for that many years and still be in touch with ordinary people," he said. "All the people surrounding him are essentially yes men, even though they don't intend to be and he doesn't intend them to be. But no one's going to argue with him obviously because that's not what you do."
McCartney is described by Miles as a sort of benevolent king, who's only equals were his Beatles band mates. He says the relationship between the four Beatles, particularly — McCartney and John Lennon — "transcended" all the material issues they faced as friends and musicians.
"You can't go through something like Beatlemania without being totally close to the other members," Miles concluded. "For all those years they were in that strange bubble."
Producer Greg Kurstin, who worked with McCartney on his most recent album, Egypt Station, described last year how strange it was trying to direct McCartney or give one of the greatest songwriters of all time notes on his songs.
Photo: Getty Images

Gerry Martire
Welcome to The Rhino Blog!
Read more