Tom Morello Was 'Terrified' in First Meeting With Chris Cornell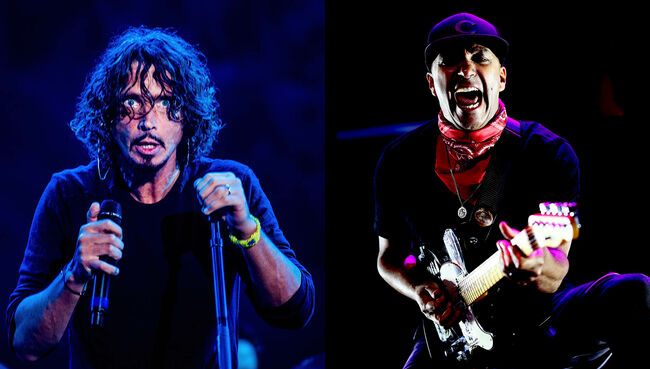 After the I Am the Highway: Tribute to Chris Cornell benefit concert last week Tom Morello recalled first approaching Chris Cornell about forming a band together — what would become Audioslave.
Morello sat down with Eddie Trunk and described what a big fan he was of Soundgarden before ever meeting Cornell. Morello said that he believes the first Rage Against the Machine album in 1992 is essentially a combination of influences from Soundgarden's Badmotorfinger and Cypress Hill's debut album, both of which were released in 1991.
So when Morello and RAtM band mates Tim Commerford and Brad Wilk were looking to start a new band in 2000 with a new front man, they kept coming back to one record — Badmotorfinger — and one name — Cornell's.
Morello says he was always attracted to Cornell's dark, beautiful poetry, and his Black Sabbath-meets-The Beatles style of songwriting. But he was not prepared for Cornell's mercurial, overcast presence when the two first met to discuss forming a band.
At the time, Morello and producer Rick Rubin weren't sure whether Cornell was available or interested in working with them, but they figured it couldn't hurt to ask.
"We drive up to Ojai and the skies are darkening," Morello recalled. "And Chris, of course, lives on the last, loneliest mountain up the wooded path. Dusk is falling and we pull into this Spanish-style castle at the very top ... There were some motorcycles in the driveway and this kind of long, winding stairway that goes up to this gilded door."
Morello continued, describing the eerie scene when Cornell appeared atop the stairs.
"We pull in and we're kinda looking at each other. I swear to you, straight out of the Addams Family, that door opens like with nobody opening the door — you know, like the two doors open. Chris was 6-2 or something [with] his lanky frame. He comes out and he starts taking these long steps down the stairway."
Morello and Rubin were uneasy and in awe. Were they not supposed to be there?
"Rick Rubin turns to me and goes, 'Let's get the f*** out of here!' (Laughs) He's like, 'Nooooope!' ... We were scared to death, like it was Dra-cool coming down the stairs! Our souls were at stake!"
Fortunately, the two overcame their flight response and ended up having a good conversation with the singer. It turned out Cornell was looking for a situation just like the one Morello, Commerford and Wilk were offering; they agreed to jam. And the rest is history.
"Chris had a presence," Morello emphasized. "Part of it was, like, he'd be sitting here having a good laugh, but there was a side that enabled him to tap into those lyrics that were so compelling in a way. Chris was a great father, a great bro and a great philanthropist, but he ... wrestled with demons, his whole life. But he took those demons by the collar and he rode them like a motherf***ing chariot of lightning with Marshall stacks to make some of the greatest rock and roll. ...If he had just been a cheery dude the whole time, you wouldn't have the tremendous music that he made."
Photo: Getty Images

Gerry Martire
Welcome to The Rhino Blog!
Read more