Mariano Rivera Refuses to Listen to Metallica, Citing His Religion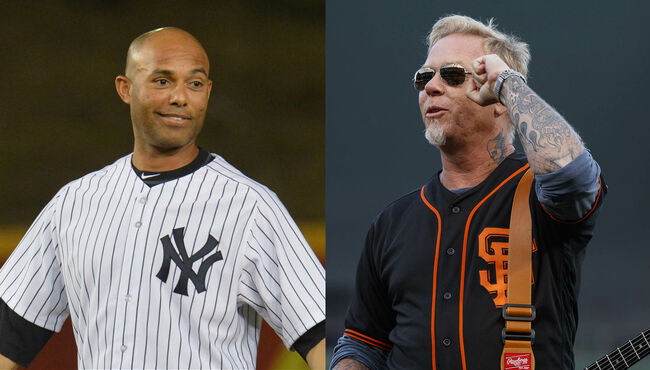 New York Yankees closer Mariano Rivera may have walked to the mound to the tune of Metallica's 1990 hit "Enter Sandman" more than 1,000 times in his career, but the newly-elected Hall of Famer is no headbanger.
It seems Rivera counts Metallica and all heavy metal as anti-Christian music; he won't listen to it on account of his religion.
Rivera made the revelation in an interview with MLB Network on Tuesday. The conversation turned to his entrance song, which even earned him the nickname The Sandman in the '90s. Rivera was asked how many times he'd seen Metallica perform.
"With all my respect to the guys, I've never been to one [of their concerts]," Rivera said with a laugh.
He then revealed the breadth of his ignorance to Metallica and heavy metal in general. Rivera may have never even heard all 5:32 of "Enter Sandman" in nearly 20 years of playing baseball. How did he even get stuck walking out to "Enter Sandman"? It sure doesn't seem like it was his choice.
"As a Christian, with all due respect to Metallica, I don't listen to that kind of music," Rivera added.
The closer did go on to say that he's met Metallica and he thinks they're "great, great people."
Since forming in San Francisco in 1981, Metallica has released ten studio albums in the band's Rock and Roll Hall of Fame career.
While some of the band's contemporaries have at times assailed religion in their lyrics and imagery, Metallica has avoided being critical of religion over its near-40-year career.
Metallica congratulated Rivera on his Hall of Fame induction Tuesday; the band doesn't seem to know that the pitcher actively shuns their life's work. Then again, Rivera never bothered to change his walkout song — Metallica ought to appreciate that, and they do.
"We, Metallica, took a vote here, and it's unanimous: Congratulations from the entire Metallica family, Mariano, on your induction to the Baseball Hall of Fame," front man James Hetfield said in a video uploaded to Twitter Tuesday afternoon.
"It's well-deserved, and we look forward to watching you enter the Hall of Fame this summer," added drummer Lars Ulrich.
Photo: Getty Images

Gerry Martire
Welcome to The Rhino Blog!
Read more