'Play It Loud' Exhibits Rock's Most Iconic Instruments At Met Museum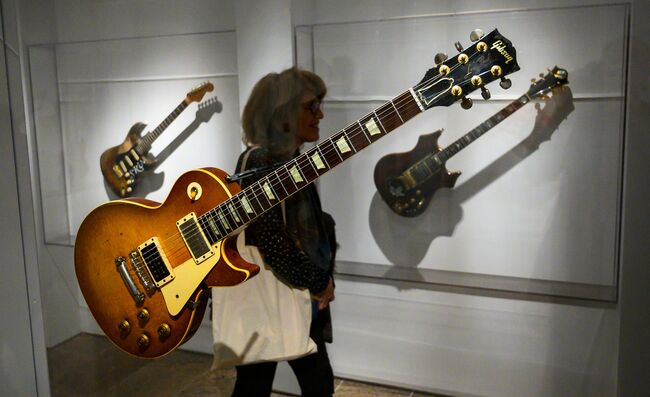 The Metropolitan Museum of Art this week is displaying hundreds of vintage instruments that helped shape the sound and look of rock and roll.
The "Play It Loud" exhibit this week marks the first time a major museum exhibit examines rock music instruments and their impact on modern culture.
"This is something that I would never have dreamed of in my life," Led Zeppelin guitarist Jimmy Page said at a Met Museum kickoff event over the weekend. "You're talking about somebody who got the guitar right when he was about 11 or 12 years old. I'd take my guitar to school, had it confiscated and given back at the end of the day. So that's the sort of respect you had for guitars. I'd love for [those teachers] to reflect on this day at the Met."
It wasn't long ago, rock music was still being vilified in the media and being blamed for all manner of world problems. Today, more than ever, rock is recognized for its positive cultural impact and artistic authenticity.
The exhibit displays electric and acoustic guitars, drums, horns and other instruments. They range in condition from like new to road worn, broken, battered or burnt.
Page's Led Zeppelin guitars are featured prominently in the exhibit, as are instruments owned by Page's heroes, like Chuck Berry, Bo Diddley and Jerry Lee Lewis; Page's contemporaries, like Eric Clapton, Jimi Hendrix and Keith Richards; and artists who were in turn influenced by Page, like Prince, Stevie Ray Vaughan, Joan Jett, Eddie Van Halen, Tom Morello and Lady Gaga (watch this if you don't believe Gaga's a Zeppelin fan).
There are event complete set ups, used by bands like the Beatles, Metallica, The Who and The Roots.
"Play It Loud" curator Jayson Dobney says he was out to create an exhibit dedicated to the most crucial objects in rock and roll's development — the instruments that allowed the artists to create the music.
In most cases the instruments in the exhibit were borrowed from the musicians themselves.
Visitors are encouraged to allow plenty of time to peruse the exhibit so they don't miss anything.
Get your tickets here.
Get a full list of the "Play It Loud" exhibit's pieces here.
Photo: Getty Images