Slash Doesn't Think Misogyny of Guns N' Roses Lyrics Will Affect Legacy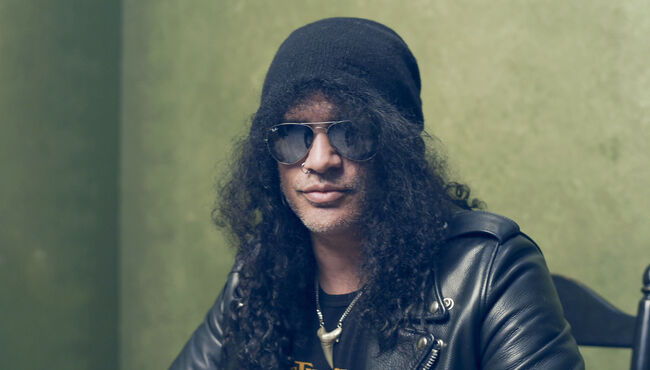 In a post-#MeToo era, Guns N' Roses guitarist Slash admits that he did wonder who among his contemporaries in music — particularly those who emerged in the '80s — would be implicated.
GNR was as controversial as any act when it debuted in 1987; the band was accused of rampant sexism almost from the get-go.
And while Slash says he understands where those allegations came from, he tells Yahoo! Entertainment that he doesn't believe an increase in sensitivity will detract from his classic catalog.
"We didn't have that particular [predatory] relationship with girls," he recalled. "It was a lot more the other way around, in some cases! Anyway, so some of the songs and all that were sort of sexist in their own way, but not to be taken that seriously. I don't think they were malicious or anything."
Despite detractors of songs like "I Used to Love Her," "Back Off Bitch" or "One in a Million" (which was omitted from the Locked N' Loaded box set) says Guns N' Roses' overriding appeal always came from its attitude — the spirit of counterculture and a dangerous aesthetic. The guitarist suggested that as long as new artists are trying to be different, people will understand where GNR was coming from.
"That sort of spirit, it's still around. Its still inherent in metal bands. It's still inherent in young bands who have something that they want to express that maybe they're not having the easiest time dealing with. But that attitude really is not something fabricated..."
It certainly seems like people still understand GNR — perhaps now more than ever. The band's Not in This Lifetime world tour, which is about to hit Asia in November, is already the fourth most-successful concert tour of all time.
The guitarist says he looks back fondly on the period in which GNR was coming up.
"The energy that was around was palpable, and you couldn't ignore it," he said. "And so when it came time to promoting your own band, the flier wars, and getting into the Rainbow [bar], and the girls, and all the craziness, I did dig all that aspect of it."
Photo: Getty Images