Courtney Love Joins Smashing Pumpkins' 30th Anniversary Show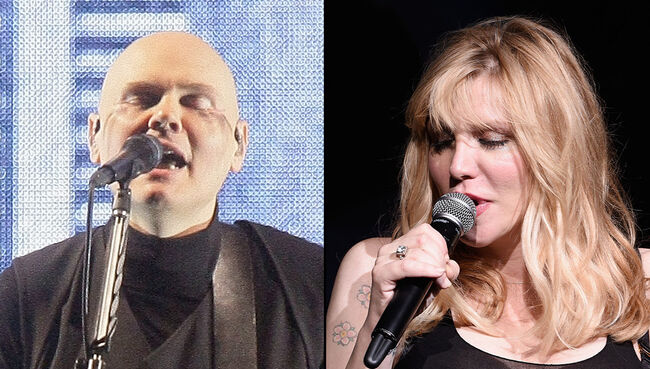 Smashing Pumpkins went out of its way to justify the band's use of the term "reunion" on its Shiny And Oh So Bright Tour Thursday night.
Not only was three fourths of the band's original lineup on stage, but the special "30th Anniversary" concert saw Billy Corgan and company joined by a cast of fellow rock luminaries, including Deftones' Chino Moreno, Sugar Ray's Mark McGrath and, most notably, Corgan's former girlfriend and longtime nemesis Courtney Love.
"This next special guest and I — and actually the whole entire Smashing Pumpkins — we go way back to actually about 1990," Corgan said before introducing Love. "She was in this band called Hole...One of my favorite people in the world — we've made love; we've not made love; we've made up; we've broken up; but we're back together again, like George and Tammy, my dearest friend, Ms. Courtney Love!"
Love agreed with Corgan's recap of their up-and-down relationship, thanking him for being her "maker of career" and adding, "I love this man with all my soul."
Corgan and Love dated before Love met Kurt Cobain. The pair's former romance and disagreements over credit and use of songs they wrote together made for a decade-plus of animosity between the two.
But it sure seems like that's all over now.
Love performed with the Pumpkins versions of Hole's "Celebrity Skin" and "Malibu," both of which were co-written with Corgan between 1997 and 1998. Love even sang the Pumpkins' "Bullet With Butterfly Wings" before taking her bows.
The Smashing Pumpkins are on tour in North America through September 9. Get the tour dates here.
Photos: Getty Images