Iron Maiden's Steve Harris Explains Why Few Rock Bands Play Arenas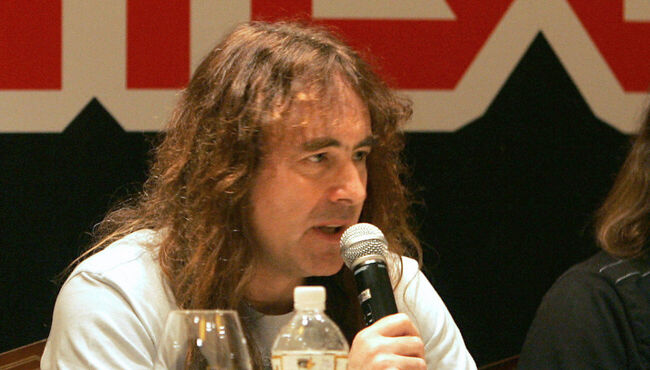 Iron Maiden bassist Steve Harris agrees that rock and roll and heavy metal is in a tough spot economically, but he thinks there's a way out.
More and more over the past years, today's rockers have been candid about the financial realities of being a working band and how difficult it is to sustain a career.
While Iron Maiden and its peers continue to sell out stadiums and arenas worldwide, many pundits have pointed to the lack of youth in festival headliners, wondering if the genre is truly shrinking before its eyes.
Harris tells Metal Hammer in a new interview that there's one thing today's hard rockers need to focus on: innovation.
"People have just got to push the boundaries and try and edge it up," Harris said, pointing to Iron Maiden's success in spite of a lack of mainstream appeal. "I mean, we've never had songs that lend themselves to radio play. We've worked really hard for where we are."
While Iron Maiden is an aberration among metal — among any genre, really — Harris emphasized that the legendary British metallers didn't make it over night.
"It's different for us, because we've taken a long, long time to build up to this kind of level, but some bands will never even get to this level, or any level," he said. "They don't get out of the pubs."
With acts like Black Sabbath, Ozzy Osbourne and Slayer announcing farewells, metalheads all over the world have been wondering who will lead the genre forward as other acts follow suit.
Harris says Iron Maiden is good for at least one more album before the band says goodbye.
Fortunately for young rockers — at least in the U.K. — heavy rock is the most popular genre of music, according to a recent study.
Iron Maiden is on tour in Europe through August. Get the tour dates here.
Photo: Getty Images