Billy Corgan Says His Control of Smashing Pumpkins Limited the Band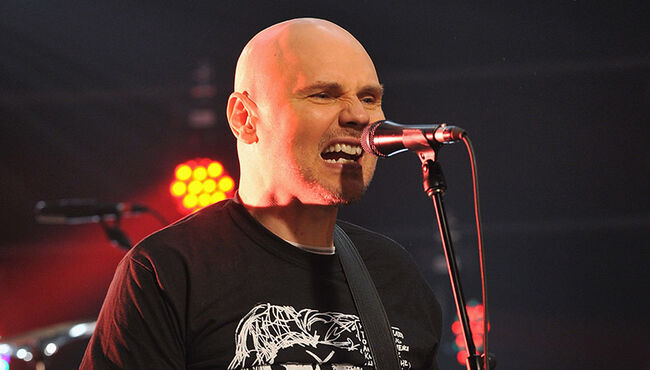 Billy Corgan says he got everything he wanted creatively from Smashing Pumpkins, but he also unwittingly held back the band.
Much has been written about Corgan's maniacal control of his iconic '90s alternative band, and how it led to a slew of membership changes over the years, but in a new interview the frontman examined how that power dynamic specifically hurt the band.
Talking to The Creative Independent, Corgan was asked if gaining money and fame from his art eventually wrung the joy of creativity from him. Surprisingly, the frontman answered to contrary, saying that during Smashing Pumpkins' heyday he was never able to strike a balance between success and his creative vision — even when opportunities to align the two worlds presented themselves.
"...I got everything I wanted, I did everything the way I wanted to do," Corgan said. "Through force of will, I got the vision I was after and it held. You can still hear it. It didn't wither away with time, but my ego got in the way of just being pragmatic."
Corgan continued, relating an anecdote from Pumpkins' 1998 album, Adore. The songwriter said the band could have had another hit with the Rick Rubin-produced song "Let Me Give the World to You," but Corgan decided to leave it off the album after hearing that the record label wanted to release it as the album's lead single.
"My immediate reaction was "Fuck no!" and I took it off the album entirely. It was like, you're not going to subvert my masterwork by releasing the pop single first. Instead, we set up the whole thing by making the weird "Ava Adore" video first, which is influential in its own right, but if I was pragmatic, I could've had it all."
Twenty years later, Corgan is still perplexed at how determined he was to get his way no matter the consequences; he was going to call the shots and follow through on his decisions regardless of whether they were to the benefit of himself or Smashing Pumpkins.
Read the full interview here as Corgan goes deep into his creative process and what works for him and what doesn't.
Corgan was again working with Rubin in January on music for a future Smashing Pumpkins release.
The singer has reunited co-founding members of Smashing Pumpkins, guitarist James Iha and drummer Jimmy Chamberlain, and has the group slated to get back on the road with longtime Pumpkins guitarist Jeff Shroeder (a member since 2007) in the Shiny And Oh So Bright Tour, beginning in July.
Pumpkins announced that the band is moving to a three-guitar lineup "to better emulate the signature tones and textures of their albums."
The setlist will reportedly pull from the band's first five album, Gish, Siamese Dream, Mellon Collie and the Infinite Sadness, Adore and Machina/The Machines of God.
Get all the tour dates here.
Photo: Getty Images