I TOOK THE ICE BUCKET CHALLENGE THIS MORNING!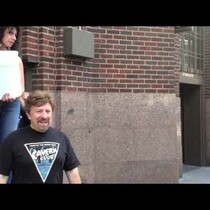 Posted August 21st, 2014 @ 2:37pm
The ALS ice-bucket challenge has raised more money to fight this horrible disease than anything else. I am a Greater NY ALS Association board member, and I can ASSURE you this money goes to research and care for our loved ones and friends fighting the good fight - combating Lou Gehrig's disease.
Please help. $5 dollars helps. go to WWW.ALS.ORG. And thanks... LOVE YOUSE GUYS!
P.S. NOW I challenge Southside Johnny, Robert Randolph, and former Met/Yankee pitcher David Cone (who has always supported the fight against ALS)... Let's go, Boys!