BRUCE ROCKIN' IT AUSSIE STYLE!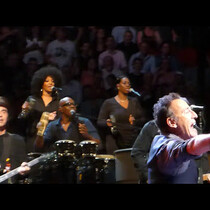 Posted February 20th, 2014 @ 5:18pm
Bruce doesn't often get to the land Down Under. In the darkness, the anticipation builds… what will he open with? Born in the USA? Thunder Road? NO! Since Bruce and the band know every song in the world, they open with the Aussie classic from The Easybeats, "Friday On My Mind"! Our fellow Q DJ and Underground Garage host Little Steven musta been in Heaven!